The Colorado Springs Clinic
Colorado Spring Office
5446 N Academy Blvd  #104,
Colorado Springs, CO 80918
(719) 212-8899
Our MMJ Doctors Colorado Springs Clinic is the Clinic that started providing red cards in Colorado Springs. In 2016 we set ourselves out on a mission to help our community by destigmatizing Medical Marijuana and now we are the premier clinic for marijuana doctors in Colorado Springs. Located in the city with the beautiful mountainous Pikes Peak and Garden of the Gods, Colorado Springs is a great destination for all those who love the great outdoors. We are less than 20 minutes away from Manitou Springs and Downtown Colorado Springs and less than 15 minutes from the Air Force Academy and Black Forest. Come check us out and see why we are the leading clinic for red cards in Colorado Springs.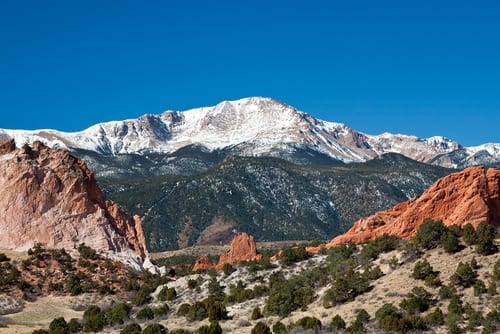 The least expensive evaluations in Colorado Springs!
We have always prided ourselves on offering our patients the best prices. We believe in the healing powers of the marijuana plant and do not think any person should be denied access to it. When it comes to price, we do not want to deter you from trying us out.
While we are the least expensive clinic in Colorado Springs, we also will price match and beat the price of any clinic that offers you a great rate. This is how confident we are. Keep in mind that once you are evaluated, you will have to pay a state fee to have your application processed. This fee is what allows the state to process your application. However, don't worry, we will make sure to guide you through this process as well! If you would like a head start, check out the videos – tutorials for MMJ registration Colorado.
MMJ doctors Colorado springs – the best service!
Our qualified medical doctors have treated all types of conditions and you will feel comfortable trying us out. They are knowledgeable and experienced in treating a multitude of conditions. Feel free to ask them for any advice as they are qualified to give you the information you need.  Our staff, is knowledgable about the state application process as well. That will guide you to our high quality videos and information. These videos will guarantee that you finish the process in the simplest of ways.
Revolutionized Speed
We have revolutionized the speed of how to help patients get their MMJ card. We focus on quality first, but we have also perfected our efficiency. Our online booking system makes sure you have everything ready for the doctor at the outset. Our booking technology also makes sure you receive all the information necessary at the right moment in the process. We are a well oiled machine with great staff, all here to help you get your Red Card in the most efficient way possible.
Who do we serve?
We serve all of Colorado! However, our office is located in the heart of the Springs. We are less than a half hour from these locations: Briargate, Cimarron Hills, East Colorado Springs, Falcon, Manitou Springs, Knob Hill, Peterson Air Force Base, The Colorado Springs Airport and The Broadmoor. The closest dispensaries to our location are Tweedleaf, Native Roots, and Altitude Organic Medicine.
What you can expect from our clinic in Colorado Springs
Besides the obvious answer of having highly skilled doctors and staff, our team is:
Knowledgable: These doctors are well studied on Cannabidiol (CBD). They know how you should integrate it along with other medicinal marijuana into your daily life. We advise each patient uniquely.  Doctors of Natural Medicine caneducate you about this amazing plant and how to best integrate it into your life.
Compassionate: We listen to you. This should be a standard in our industry however we are very happy to serve you and give you the relief you need. We know that in order to trully serve you and your specific qualifying condition, we must also listen. Understanding takes time, and we are happy to give you that time.
Passionate: We are passionate about making medical marijuana accessible to all people. We want to destigmatize the terrible history it has been given as well. Our doctors and staff are dedicated to helping you find your specific relief and guiding you in this journey. Our goal is for you to leave our doors feeling confident with your future in using marijuana as a medicine.
Come check us out or give us a call at (719) 212-8899.