The Pueblo MMJ Evaluations Clinic
Pueblo Office
635 West Corona Ave,
Suite 203,
Pueblo, CO 81004
(719) 755-0786
The building is at the SW corner of Corona and 4th with the address 635 on the front of the 2 story building.
The MMJ Doctors Pueblo Clinic was a natural place to grow to since we started in the Springs and many of our patients were driving from Pueblo for their appointments with red card doctors. Located in the city where they adopted the name "Home of Heroes", our Pueblo mmj doctors are proud to be serving the city for over two years now.  Not too far from the Historic Arkansas Riverwalk, feel free to come by and get evaluated after a nice afternoon enjoying this urban development. Make it a day to also check out the Pueblo Zoo or Lake Pueblo State Park for some fishing and camping. This city has a lot to offer and we are happy to be a part of this community.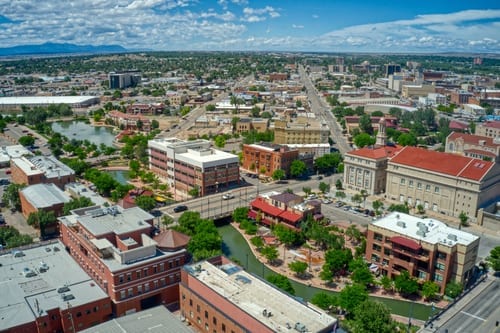 The Best Prices in Pueblo
We offer the best prices in Colorado, not to mention Pueblo.  The state application process is also very simple and low cost and we will guide you through every step of the way after your appointment.
The Best red card doctors & Service in Pueblo, Colorado
Check out our reviews and you will see one overarching quality: consistently great service. At Doctor's of Natural Medicine in Pueblo we are dedicated to making the process very easy for all our patients. In fact, we revolutionized the state application process by doing it for our patients. We have created easy to follow free videos and systems that will help you feel taken care of at all stages. Feel free to check out tutorials for mmj registration in Colorado.
The locations we serve
We serve all of Pueblo. We are less than 30 minutes from these locations: The Historic Arkansas Riverwalk, The Pueblo Zoo, Elmwood Golf Course, Colorado State Fairgrounds, Colorado State University-Pueblo, Walking Stick Gold Course, Salt Creek, and Pueblo Memorial Airport.
our MMJ doctors in Pueblo are Different from the rest
At Doctors of Natural Medicine, we are different from the rest. We offer a guarantee that states: get your card or receive your money back!
Our MMJ Doctors in Pueblo are knowledgeable, compassionate and caring
. Our staff is highly trained and experts in resolving any issues that come up. We are confident that you will love the process. So please, call us at
(719) 212-8899
or book online today!